Hyperautomation - Advantages and Disadvantages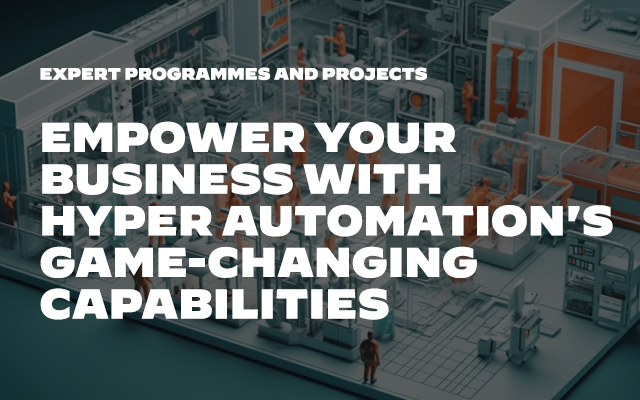 What is hyperautomation?
Hyper automation is the use of automation technology to streamline any and every process possible in a business, enabling repetitive processes to run without intervention. Hyper automation uses artificial intelligence (AI), machine learning and robotic process automation (RPA) to revamp processes and equipment.
This digital transformation can help a business gain both cost and resource proficiencies that facilitate it to thrive in a competitive environment. There are some key hyperautomation advantages and disadvantages that will be covered in this post.
Why use hyperautomation?
Hyperautomation can help your business thrive in a fast-paced, highly distributed, resource-starved environment. Any business can adopt and benefit from hyperautomation, whether processes are already automated or not.
With highly remote staffing, many industries have been hit hard by the inability to move as quickly as they desire or need to. Needs and goals that drive organisations to hyperautomation include the inability of corporate IT to keep up with the needs of the business due to lack of resources or knowledge
The desire for consistency of production and higher quality products with less (or no) human error
Keeping up with demand.
Outdated work processes resulting in latency
Curiosity and ambition
The need to meet regulatory compliance.
Saves time by automating time-consuming processes.
Speeds up repetitive and redundant tasks.
Facilitates business agility.
It can help to increase your business' extent of automation by amplifying it.
It fosters collaboration.
It connects employees across all departments and at various levels.
It allows businesses to keep at pace with the constantly growing market.
Enables organizations to scale according to both employee and customer demands.
Improves work quality with the assistance of advanced technologies.
Can increases employee engagement.
Facilitates the digital transformation of the organization.
It improves data accessibility.
Increases productivity.
It increases returns on investment (ROI).
By incorporating this innovative technology into existing operations, hyperautomation leads to additional efficiency. It facilitates smooth interaction between infrastructure and users. Organisational systems can connect effortlessly, the accessibility to core elements can be increased and all operations can be optimised with technologies like artificial intelligence, machine learning, and robotic process automation.
Furthermore, it has the potential to increase the ROI with the help of optimisation and maximum efficiency. However, hyperautomation does have a set of challenges.
Disadvantages of Hyperautomation
There is always a risk of data privacy violations with artificial intelligence vendors, which require investments in solutions like data masking and well-designed security infrastructures to avoid violations.
Unavailability of synthetic data sets for the training of data generation can slow down operations.
Systems based on artificial intelligence can contain biases based on assumptions embedded into training data or algorithms.
Undocumented processes or ill-documented operations lead to a lack of process understanding, causing difficulties in effective analysis.
The mindset of "avoiding all potential errors" slows down the adoption of hyperautomation.
There is a need for user-friendly solutions that allow humans to step in so that automation can be successful.
Finally, Cost.
How to solve hyperautomation challenges
Hyperautomation presents several challenges that organisations must overcome to fully leverage its benefits. To deal with these challenges, organisations should invest in upskilling their employees to manage the new technologies and processes, ensure strong data governance and security measures, maintain effective communication and collaboration across teams, and continually monitor and adapt their hyperautomation strategies.
Why NWT?
By examining your critical processes and supporting data, both structured and unstructured, NWT can assist you in identifying your needs and determining how automation technologies might enhance your business operations.
Recognise the areas in which better analytics and AI technology can be leveraged to help you make better business decisions. All of this is supported by our expertise in completing projects successfully and implementing management of change methodologies. Learn more about how NWT's hyperautomation solutions can benefit your business.